Great AP review of Evergreen
By BRUCE DESILVA
The Associated Press
This cover image released by Permanent Press shows "Evergreen," a release by Howard Owen. (Permanent Press via AP)
Here's a great review of Evergreen by the Associated Press:
"Evergreen," by Howard Owen (Permanent Press)
When Willie Black was 15 months old, his father, Artie Lee, was killed in an apparent automobile accident. That's all Willie — police reporter for a Richmond, Virgina, newspaper — knows about his dad. He's never been curious about the man.
That changes when Willie's aunt on his father's side summons him to her deathbed. She's been tending Artie's grave in Evergreen, an abandoned cemetery, and now it's up to Willie to inherit the chore.
Readers of Howard Owen's underappreciated Willie Black novels already know that Willie's father was black, that his mother was white, and that they weren't allowed to marry in 1960s Virginia. But in "Evergreen," the eighth book in the series, they'll grow as curious as Willie about what really put Artie in his grave.
Finding out is no easy task.
Willie's mother won't say and urges Willie to drop it.
Artie's old pals reminisce about his saxophone playing but clam up about his death.
The police chief says there were rumors that the car crash was no accident but has no details.
Old newspaper files are no help. The death of a black man didn't merit a news story in 1961 Virginia.
Patiently, Willie squeezes a few minor details from townsfolk old enough to remember Artie. Each time he gets a scrap of information, he circles back, telling the witnesses what he knows and teasing out a bit more. He does this so skillfully that it is a pleasure to watch him work.
Eventually, he learns that Artie's death was connected to a Ku Klux Klan rally, a car bombing and a series of betrayals by friends and relatives who were threatened by racist police officers unless they talked. The result is a conclusion that is both wrenching and satisfying.
Readers seeking the thrills of most popular crime fiction won't find it here. Instead, they will find a textured, emotionally charged tale about coming to terms with growing up biracial in America told in the precise language of a writer who honed his craft during 44 years in the newspaper business.
Evergreen
Here's a pre-publication review from Kirkus:
Richmond crime reporter Willie Black accepts a commission to clean up his unknown father's grave and ends by cleaning up a whole lot more. Willie's never known much about Artie Lee like where he's buried or when and how he died. So when his cousin Philomena Slade, brought to a hospital she's clearly not going to leave, says she wants to talk to Willie about his father, he has decidedly mixed emotions. Of course he's going to do whatever he's asked by his cousin, one of the few truly decent people in his family tree. But clearing Artie's plot at Evergreen Cemetery turns out to be only the tip of the iceberg, for Willie can't rest until he finds out what put his father there in the first place. A series of conversations with the surviving members of the Triple-A's—Artie's ancient friends Arthur Meeks and Arkie Bright—reveals mainly that they really don't want to talk about the one-car encounter with a tree that killed Artie back in 1961, when his son was just learning to walk, and his dying newspaper's files add precious few details. Willie's big discovery concerns the aftermath of a Ku Klux Klan rally the year before, when a car bombing killed married police officer Phillip Raynor and his companion, 22-year-old Julia Windham, whom friends said he'd offered shelter from a thunderstorm that the weather pages from that date don't mention. Unearthing the connection between their murders and Artie's death six months later would be a challenge under ideal conditions, and Willie's conditions—working 57 years later under the watchful eye of Benson Stine, yet another know-nothing representative of the conglomerate owner MediaWorld, who loads him with new responsibilities and forbids him to spend any time working on his own concerns during the paper's time, which is all the time—are anything but ideal. Middling for a series (Scuffletown, 2019, etc.) whose most distinctive features are its sharp eye for the mixed-race hero's heavy burdens, including, but not limited to, the decline and fall of print journalism.
And another one from Publishers Weekly
Howard Owen. Permanent, $29.95 (254p) ISBN 978-1-57962-573-3
In Owen's low-key eighth Willie Black mystery (after Scuffletown), a dying relative unexpectedly asks Willie, a Richmond, Va., crime reporter, to take over as caretaker of his father's grave in Evergreen, the city's historic African-American cemetery. As a child of mixed-race parents prohibited from marrying by Virginia racial laws, Willie knows virtually nothing about his father, Artie Lee, other than that he died in an auto accident in 1961, when Willie was an infant. Prompted by curiosity to look up the details of the accident, he soon faces some puzzling questions: Why are his elderly mother and Artie's surviving friends reluctant to talk about what happened? And why does the police chief direct his attention to a deadly explosion that took place at a Ku Klux Klan rally the year before the accident? Willie's plunge into the city's racially turbulent past generates little suspense, and only toward the end do the strands come together for an emotionally satisfying conclusion. Willie, meanwhile, remains the same witty and humane character as ever. Readers will hope he has a long run. (July)
Scuffletown
The next Willie Black novel, Scuffletown (The Permanent Press), comes out later in January. This is Willie's seventh mystery and my 17th novel. I never thought, when I started writing fiction back in 1989, that it would go this far. Scuffletown, by the way, refers to Scuffletown Park, a hidden gem of a pocket park in Richmond's Fan District. The eighth Willie Black mystery, Evergreen, will come out later in 2019. Happy New Year.
Podcast news
Here's a link to a podcast the Permanent Press did recently about my books, including Annie's Bones, which came out in May, and the next two (both Willie Black) mysteries, which come out next year. Scuffletown debuts in January, and Evergreen will be toward the end of 2019.
https://www.buzzsprout.com/195266/764814-howard-owen-interview
Annie's Bones
My 16th novel, Annie's Bones, is out. Here are a couple of very nice pre-pub review from Publishers Weekly and The Associated Press:
Publishers Weekly March 16, 2018
Annie's Bones by Howard Owen. Permanent, $29.95 (264p) ISBN 978-1- 57962-522- 1
In 1968, Grayson Melvin, the protagonist of this moving, well-crafted standalone from Owen (The Reckoning), meets the love of his life, Annie Lineberger, when they're both college students in North Carolina. When Annie breaks up with him, he tells her to get out of his car. She scrambles out and is never seen again. Grayson is the primary suspect in her disappearance, but without any evidence he moves on—always followed by a cloud. In 2016, Annie's bones are found in Portman, Va., and Grayson's nightmare begins again. He gets support from only a few people, including Richmond, Va., reporter Willie Black (the lead of Owen's The Devil's Triangle and five other mysteries). Arrayed against him are public opinion, seemingly every lawman in the area, and Annie's unforgiving brother, Hayden. The discovery of Grayson's high school senior class ring, which he last saw when he refused to take it back from Annie at the time she left him, puts Grayson on a tortuous path that eventually leads to answers that may or may not explain what happened. This tale of loss and redemption will resonate with many readers.
(Apr.)
Associated Press review of Annie's Bones
"Annie's Bones" (Permanent Press), by Howard Owen
Grayson Melvin was just 18 when Annie, the girl of his dreams, broke up with him in a North Carolina college parking lot. Weeping, she ran from his car and disappeared into the night.
The loss of love was crushing, and then things got worse. When Annie failed to reappear, everyone including the police, the media and the girl's family thought Melvin must have killed her. Without a body, they didn't have enough evidence to convict him, but they weren't about to give up.
For decades, the police dogged him, demanding to know what he'd done with her. And Annie's influential family never stopped hounding him, getting him fired from job after job.
"Annie's Bones" is the 16th novel by Howard Owen, whose most popular series character, investigative reporter Willie Black, makes only a cameo appearance in this stylishly written, sobering tale of suspicion, vengeance, injustice and a man's last, desperate chance for redemption.
It comes nearly 50 years later when a backhoe operator clearing land for a new mall digs up Annie's bones and an ambitious prosecutor, seeing the case as his ticket to higher office, sets his sights once again on Melvin.
His situation appears hopeless until a stranger calls him with startling news. She has found Melvin's high school ring in a handful of old stuff she bought in a junk shop.
The last time Melvin had seen the ring, it was on Annie's finger.
Melvin's only hope is the longest of long shots — that it might be possible to trace the ring back to the real killer. Mistrustful of the police, the old man sets off on the quest himself, seeking not only to prove his innocence but also to finally learn what happened to the girl he loved.
Finalist for Silver Falchion Award
Grace is one of the finalists for Killer Nashville's Silver Falchion Award for Best Fiction Adult Mystery in the U.S.
Starred review in PW!
Publishers Weekly April 14, 2017
The Devil's Triangle, by Howard Owen. Permanent, $28 (240p) ISBN 978-1-57962-499-6
Here's the (starred) Publishers Weekly review of The Devil's Triangle, my 15th novel and sixth Willie Black mystery, which comes out in June.
At the start of Owen's superior sixth outing for Richmond, Va., reporter Willie Black (after 2016's Grace), a twin-engine Beechcraft plane crashes into the Dark Star bar, killing 22, injuring 29, and fueling wild speculation about the cause of the crash. Was it a terrorist act, suicide, or an accident? The pilot is identified as David Biggio, a former Richmond resident who was once arrested for stalking his former wife; the plane belonged to James "Chopper" Ware, who owns a hardware store in a tiny town on the Chesapeake Bay. Black uses all his journalistic resources, including such strong supporting characters as Peachy Love, the police media relations person, and elderly Jumpin' Jimmy Deacon, who gives him a lead to Biggio's ex-wife. As usual, Black finds himself at odds with police chief Larry Doby Jones and with his newspaper's publisher, Rita Dominick. An unexpected insurance policy, the discovery of a murder victim, and a man's hidden past keep Black digging. Owen's informed treatment of Richmond and its declining daily paper is perfect. (June)
First review of The Devil's Triangle
Good review from Kirkus on the latest Willie Black mystery, out in June. Here's the kicker:
"Owen produces another grim, tightly woven, and resolutely professional piece of work with a memorably nightmarish payoff."
Howard Owen is a novelist and journalist...
Struck by either an epiphany or a midlife crisis, Howard Owen wrote his first novel, "Littlejohn," at the age of 40. The first draft took him about 100 days. At the time, Owen was a sports editor at The Richmond Times-Dispatch. He retired in April as editorial page editor of The Free Lance-Star in Fredericksburg after 44 years in journalism. Before retirement, he never took a sabbatical, adhering instead to a schedule that includes about an hour a day for writing or revising. He finds that it is possible to do great things with an hour a day, every day. Now, in retirement, he has even more time to write. Owen's tenth novel, "Oregon Hill," published in 2012, won the Hammett Prize for best crime literature in the U.S. and Canada, given by the International Association of Crime Writers. The sequel, "The Philadelphia Quarry," came out in July of 2013. The third Willie Black mystery, "Parker Field," was published in 2014. The fourth, "The Bottom," came out this year. The fifth, "Grace," came out in October of 2016. The sixth, "The Devil's Triangle," comes out in June and just got a starred review in Publishers Weekly.
Here's a brief summary of my career so far:
Littlejohn (1992)[2] was the first novel[3][4] by Owen[5] and he was 43 years old when it was first published in 1992. It was followed by Fat Lightning in 1994,[6]and Answers to Lucky (1996).
His fourth novel, The Measured Man,[7] was published in hardcover by Harper Collins in 1997. It was praised in The New York Times, The Los Angeles Times,Publishers' Weekly, Kirkus Reviews, the Raleigh News & Observer, the Orlando Sentinel, and the Fort Lauderdale Sun-Sentinel. Chosen as one of the Los Angeles Times Book Reviews' "Recommended Titles" for 1997, it was also included in The Best Novels of the Nineties: A Reader's Guide.[8]
His fifth novel, Harry and Ruth, was published by The Permanent Press in September of 2000 to critical acclaim from Kirkus, Publisher's Weekly and various weekly publications.
His sixth novel, The Rail, was published in April of 2002. It is about (among other things) baseball and the parable of the talents. Owen won Richmond Magazine's 2002 Theresa Pollak Award for Words. His seventh novel, Turn Signal, came out in 2004 and was a Booksense selection for July of 2004. His eighth novel, Rock of Ages, is a sequel to his first novel, "Littlejohn." It was a Booksense pick for July of 2006. His ninth novel, The Reckoning,'[9] about ghosts of the '60s, came out in late 2010 and received very positive reviews from, among others, Publishers Weekly and the New York Journal of Books.
An Owen short story, "The Thirteenth Floor," part of Richmond Noir, came out in early 2010. The protagonist of "The Thirteenth Floor," Willie Black, also is at the center of Owen's 10th novel, Oregon Hill,' which was published in July of 2012 to positive reviews in The New York Times, Publishers Weekly, and Kirkus.Oregon Hill has also been released as an audio book. Willie was a central character in future Owen novels: The Philadelphia Quarry[10] (2013), "Parker Field" (2014) and "The Bottom" (2015). The fifth of the Willie Black novels,[11] Grace,[12][13] was published in 2016. The Devil's Triangle (The sixth novel in the Willie Black series) is scheduled for release in 2017.[14]
Regarding Oregon Hill,[15] a New York Times critic said Howard Owen is "a writer we can't wait to hear again. . . .Owen knows his setting, his dialogue is spot-on, and his grasp of the down-and-dirty work of the police and news reporters lends authenticity to the narrative. This is Southern literature as expected, with a touch of noir and with a touch of Dennis Lehane's Mystic River." Another NYT writer in the Sunday Book Review said, "Owen has recruited his sick, sad and creatively crazy characters from a rough neighborhood cut off from the rest of the city when the expressway was built. If anyone is watching out for the forgotten citizens of Oregon Hill, it's Willie, who grew up there and speaks the local language, a crisp and colorful urban idiom we can't wait to hear again.[16]
Littlejohn was nominated for the (American Booksellers Association) Abbey Award and the (Barnes & Noble) Discovery award for best new fiction. Littlejohn has sold more than 50,000 copies and has been printed in Japanese, French and Korean. The book has also been a Doubleday Book Club selection, and audio[17]and large-print editions have been issued. Movie option rights for the book have been sold. All his subsequent books have continued this initial popularity and have garnered additional awards and favorable reviews. Littlejohn,[18] The Philadelphia Quarry,[19] The Bottom,[20] and Parker Field[21] are available to read free as online books.
Howard Owen was born March 1, 1949, in Fayetteville, North Carolina. He and his wife since 1973, Karen Van Neste Owen[22] (the former publisher of Van Neste Books), live in Richmond, Virginia, a city which is the setting for much of his writing and the residence of one of his favorite fictional characters, Willie Black.
He was a 1971 journalism graduate from the University of North Carolina at Chapel Hill, and he earned a master's degree in English from Virginia Commonwealth University in 1981.
Owen was a sports editor at The Richmond Times-Dispatch[23] and editorial page editor of The Free Lance-Star in Fredericksburg, Virginia. He spent 44 years as a newspaper reporter and editor. He wrote his first novel, Littlejohn, in 1989, when he was 40. Littlejohn was bought by The Permanent Press and published in 1992.Random House bought it from The Permanent Press and reissued it as a Villard (imprint) hardcover in 1993 and a Vintage Contemporary paperback in 1994.
He was awarded the Hammett Prize in 2012.[24] He was a featured guest at the "Festival of the Written Word" in Chesterfield, Virginia in 2015.[25]
First pre-pub review of Grace
Grace, the fifth Willie Black mystery, comes out in October. Here is the first pre-publication review, by veteran book critic Joan Baum.
by Joan Baum
With Grace, veteran Richmond, VA newspaper editor, reporter and feature writer Howard Owen, still sticking with investigative journalist Willie Black who continues to bite the hand that feeds him, has arguably created the best book so far in the Willie Black murder mystery series. Where the earlier four books garnered well-deserved critical acclaim and awards, Grace exhibits a tighter, more confident craftsmanship, as Owen shows that he knows how to work exposition into an engaging plot while training a jaundiced eye on his protagonist, keeping Willie the same but not quite the same. Willie, now 54, whose black father disappeared at birth and who still delights in being the good bad boy of print journalism at his paper (his nasty, venal publisher has pushed him into the late-night crime beat), has evolved into an even more sardonic chaser of the justice and truth. Hilarious at times and always cynical and selectively foul mouthed, he seems aware of time's winged chariot – the press of time and his history of being a fuck-up. But he's not afraid to use the L word for his lady love, whom he just might make number four, if he can rout or, more realistically, diminish his demons. He loves to drink, fight, stand pat when the dam breaks and, go where angels fear to tread. A half bro, he can mix and mix it up with whites and blacks, people of all classes, professions and vocations and relationships to the law, earning the admiration of the innocent and the criminal.
Like some others in the hard-boiled detective genre, Willie attracts because he is flawed and heroic, but he has limits about what he will do and not do to get the story, the bad guy, the girl. His honesty, integrity and ethics endear him to the various oddball men and women he interacted with in the earlier books who are back again. These include Peggy, his reefer smoking mom, Awesome Dude a former homeless derelict, his ex-wife Kate, a lawyer who is his landlord, an Indian he has befriended, his admiring colleagues both at the paper and in the police department, and his slightly estranged but beloved daughter, Andi, now an unmarried mom herself. Not to mention all those bartenders who know him well. Willie also knows himself. Of his ability to judge others, which he thinks he usually does well, he adds, "I'm my biggest fan, so maybe I'm a tad biased." Unlike many modern day protagonists, Willie believes in "social justice, the Golden Rule, cold Millers, and forgiving women, in no particular order." In other words, Owen is not in the downer camp of contemporary noir. But he does know how to read literary tea leaves. These say that the hot topics today that inform best sellers include racial tension, class divide, pederasty in the church, failed marriage and alcohol and drug abuse.
As with all the Willie Black books, Owen lets Willie speak for his creator's values, which are admirable, especially at a time when good old-fashioned print journalism is dying, if not already dead, and when so-called reporting, especially in social media and on certain channels makes no pretense at accuracy, fairness or intelligence. As Willie says, "First-person stories by reporters give me the heebie-jeebies. They smack too much of the kind of `look-at-me' journalism that some of my compatriots seem to prefer to actually digging and sticking to the facts." As for the state of the world, it's easy to take a nihilist line, but Willie is more nuanced that that. He sees that the world is divided "into two equally reprehensible groups, both earnestly involved in their life's work: judging and affixing blame while assiduously eschewing spell check." If there is a God, he finds himself thinking, he wonders " why the hell are we still here? Isn't it about time for another flood?" But he knows why he is here, and that it to make things right. He has for all his agnosticism a good smattering of . . . grace.
Latest review for The Bottom (Aug. publication)
New York Journal of Books August 31, 2015
The Bottom by Howard Owen (Willie Black Series, Book 4)
Reviewed by D. R. Meredith
"The Bottom by Howard Owen races along at breakneck speed, hardly pausing long enough to allow one to catch a breath."
Willie Black, hard-smoking and hard drinking crime reporter for a Richmond, Virginia, newspaper is trying to reform after a drunken argument with girlfriend Cindy. "I hardly drink anymore, and I've cut way back on the Camels." Willie is exaggerating as he admits to himself. "Of course, this means two drinks a day instead of six and maybe six cigarettes instead of a pack."
The point is that Willie is trying to be a better person, but one area where he has no intention of changing is his obsession to track down a story, tackle it to the ground, and write it up for the front page. "I just want to get a story and sink my teeth into it like a pit bull with anger issues."
His current story is the Tweety Bird Killer, a serial killer who in the last eighteen months has killed four young women and tattooed the cartoon character on their ankles. Willie is not above lying to get his story. Perhaps lying is the wrong word. When he interviews the guard of the train station where the body is dumped, Willie doesn't lie, not technically anyway.
"I tell him I have a few more questions about the dead body that somehow materialized just outside the lobby, on his watch. I somehow forget to mention that I'm asking on behalf of our shrinking readership rather than the police."
Thanks to this oversight on Willie's part, he learns the guard was lured from his post to a bar by a phone call from Willie's own daughter, Andi. This is not good news. Willie is not happy to see Andi involved even in a small way in the Tweety Bird Case.
"I got this call, on my cell. The guy said there was an envelope under the napkin at the bar. . .there were two twenties and a note. The guy said one twenty was for me and the other one was for drinks for this guy I was supposed to call."
Willie's problem is to track down whoever made the phone call, a difficult job since he has no idea who he is looking for. Neither do the police until a low life photographer named Ronnie Sax started showing his neighbor some porn shots of underage girls. The neighbor calls the cops, who find photos of two of the victims on Ronnie's computer.
This is not Ronnie's first arrest on porn charges. On the previous occasion Willie was blunt about his feelings. "As the father of a daughter, I think now that, in a similar situation, I might have shot Ronnie Sax." Still, as a serial killer Ronnie Sax is not a serious suspect as far as Willie Black is concerned.
A better suspect is Wat Chenault, a fat, aging former state senator, whose political career was torpedoed when Willie discovered that Chenault was cavorting with a 14-year-old girl in a hotel room, and wrote a story about it, with an accompanying photo.
Chenault is suing the newspaper because Willie resurrected the story after the sleazy Chenault announces plans to develop The Bottom, a section of old Richmond where an unmarked slave cemetery is supposed to exist. Willie is bi-racial, and it's possible some of his father's ancestors are buried in that cemetery.
Putting aside Chenault's plans for real estate development, the slave cemetery, and his penchant for underage girls, there is the fact that Willie can find no trace of the teenager who originally ripped away the former state senator's mask of respectability. She disappeared shortly after Willie originally broke the story and has not been seen since.
Ronnie Sax is arrested. The Tweety Bird Killer is in jail. Richmond women are safe. When Willie receives letters from someone claiming to be the real killer, and furthermore reveals details about the victims that the police have withheld from the public, Willie knows the murderer is still free. "Sax looks like a natural. I was pretty much ready to pull the switch myself. Now, with the letter, I'm not so sure."
If the Tweety Bird Killer isn't Ronnie Sax, and it isn't Wat Chenault, and Willie now has a good reason to believe that Wat may be a scumbag, but not a killer, then who is raping and murdering the young women of Richmond?
The Bottom by Howard Owen races along at breakneck speed, hardly pausing long enough to allow one to catch a breath. Written in sparse journalistic style, with few adjectives and no unnecessary words, The Bottom features wonderful characters who are just eccentric enough to be amusing without being stereotypes. While some mystery fans may not care for Willie's use of profanity, it is appropriate to his character. This is a perfect read for those who like their mysteries blunt and to the point.
The Bottom
Here are some nice pre-publication reviews for The Bottom, the fourth Willie Black mystery. It comes out in August.
Publishers Weekly
Howard Owen. Permanent, $28 (208p) ISBN 978­1­57962­392­0
Willie Black has the tenacity of a bulldog when chasing a story or a bad guy, as shown in Owen's satisfying fourth mystery featuring the Richmond, Va., newspaper reporter (after 2014's Parker Field). A serial killer dubbed Tweety Bird has just claimed his fourth victim, a 14­year­ old girl, probably a runaway, found in Richmond's rundown Main Street train station. On her ankle is the killer's signature tattoo of a cartoon bird. After the police arrest sleazy photographer Ronnie Sax for the crime, Willie starts receiving threatening handwritten letters with information only the killer could know. Meanwhile, a former state senator is pushing an ambitious development plan for the Richmond neighborhood known as the Bottom, much to its residents' dismay. Willie carries a lot of personal baggage, including a fractured (but not broken) family, three divorces, a couple of rocky romances, and a drinking problem sort of under control, but readers can count on him to deliver in the end. (Aug.)
Booklist June 1, 2015
Aug 2015. 208 p. Permanent Press, hardcover, $28. (9781579623920).
Newspaperman Willie Black was born 60 years too late, and he's unhappy about it. His century's
reporters were bourbon soaked, and when they weren't playing poker, they were bringing down
scoundrels. Nowadays, the birdcage liner—his term—Willie works for in Richmond, Virginia, is
staffed by sycophants and run by weasels, and he loves to tell us all about it. His rants are
interrupted by murders he must solve. This time (following Parker Field, 2014), someone is
killing teenage girls, and after the cops jail a former newspaper photographer, Willie still has his
doubts. After all, he keeps getting letters from someone claiming to be the real killer. And he has
inside dope. As the story unfolds, Willie faces the killer, battles a greedy developer's plan to
junk up the landscape, and installs a spine in the newspaper's publisher—all the while displaying
an easy humor and a sweet good nature that belies his cynicism. At one point, he wonders if his
woman could really care about, "a 53-year-old bald man who needs to lose weight." Of course,
she could. We do. — Don Crinklaw
Kirkus Reviews Review Issue Date: June 15, 2015; Online Publish Date: June 4, 2015
THE BOTTOM Author: Howard Owen
Publisher:Permanent Press Pages: 208; Price ( Hardcover ): $28.00; Publication Date: August 31,
2015; ISBN 978-1-57962-392-0;Category: Fiction; Classification: Mystery
Willie Mays Black, reporter/drinker/police gadfly, searches for a serial killer in Owen's (Parker
Field, 2014, etc.) fourth crime caper. Young women, each corpse marked with a distinctive
tattoo, have been discovered in Richmond, Virginia. Ronnie Sax, one-time photojournalist, full-
time pornographer, possessed all the right perversions, and the cops jailed him. Even Willie
thinks he's guilty until he begins getting threats that his single, pregnant, bar-tending, college-age
daughter, Andi, will be targeted unless Sax is released. Sax's sister provides an alibi, and he's
freed. Willie's suspicions turn to an ex-pol he exposed for bedding an underage girl. Now
lobbying to desecrate a slave burial ground with big box stores, that fellow, Wat Chenault, is
"fronting for a bunch of bright-eyed hustlers who claim they'll grow the tax base." Owen drops
deft characterizations page upon page: Willie as "a busybody who loves getting paid to snoop,"
and the true killer as "something out of the latest chainsaw movie." Clean and clear, not an
extraneous word or scene, Owen's plot flashes along like a tense edition of Law & Order: SVU.
A former reporter, Owen enjoys knifing the newspapers business's bean counters, eager to ignore
breaking news in pursuit of the bottom line. A little black comedy provides the knife twist when
a former publisher makes the obits after an unfortunate meeting of Segway and city bus. Owen
incorporates regulars like Willie's mother, the dope-smoking Peggy; Awesome Dude, Peggy's
part-time lodger and part-time street wanderer; and Sarah, a young female reporter Willie fears
may give up the news beat to chase a bigger paycheck. Owen has a solid grip on people and
lace and the social and racial tensions buzzing through a city haunted by history—a perfect
milieu for nuanced crime capers.
Pulp Den http://pulplair.blogspot.com/2015/04/the-bottom.html, Night To Dawn Magazine
The Bottom (Murder Mystery) by Howard Owen Rating 5-Stars
"A Masterful Tale of Murder and Mystery."
Richmond, Virginia is going through some growing pains at the moment, as an ex-senator, now
a building contractor, is trying to build a business center on the site where slaves were buried
and the black community is up in arms. Newspaper crime reporter, Willie Mays Black is on their
side, but he and the ex-senator have a past connection that goes back to when the ex-senator
was caught in bed with a 14-year-old girl, and Willie helped ruin his political career. The ex-
senator is looking for reasons to sue the newspaper because of Willie and their stand against
his building project. But Willie has other problems at the moment. The fourth victim of the
Tweety Bird killer was just found at the train station, and Willie is working on that case. The
victims are all young girls, runaways, raped and tortured, then tattooed with the image of
Tweety Bird on their ankle before they were killed. Willie thinks that maybe the ex-senator is
the guilty party due to his preference for underage girls. Now, the lawsuit may bring a stop to
his investigation.
This was another fantastic Willie Black murder mystery in his little community of Richmond. The
author recently retired after 44 years as a veteran newspaper man, and knows the inside and
outs of newspaper work The reader is pulled into the story, and the characters come alive; the
reader may even want to drop by Penny Lane for a couple of beers and a Camel with Willie,
listening to his tales of growing up on The Hill, while he's taking a break from the office. This is a
masterful tale of murder and mystery, and Willie Black isn't afraid of stepping on
toes—publishers, police or perps. Highly recommended.
Tom Johnson, Detective Mystery Stories
Woo-hoo!
OREGON HILL NAMED WINNER OF NORTH AMERICAN HAMMETT PRIZE

The North American Branch of the International Association of Crime Writers is pleased to announce that Oregon Hill, by Howard Owen (Permanent), has been named the winner of the organization's annual HAMMETT PRIZE for a work of literary excellence in the field of crime writing.
The winning title was chosen by a group of three distinguished outside judges: Rob Dougherty, Manager of the Clinton Book Shop, in New Jersey; Janet Groth, author of The Receptionist: An Education at The New Yorker; and Edward D. Miller, professor of Film and Theatre (CUNY), and author of Tomboys, Pretty Boys, and Outspoken Women: The Media Revolution of 1973. The judges selected from among five finalists nominated from the hundreds of crime books published in 2012. These five titles were selected by the organization's nominations committee headed by J. Madison Davis.
Other books nominated for the 2012 HAMMETT PRIZE were Defending Jacob: A Novel(Delacorte), by William Landay; Truth Like the Sun: A Novel (Knopf), by Jim Lynch; Patient Number 7 (McClelland & Stewart), by Kurt Palka; and Alif the Unseen (Emblem/Canada; Grove/US), by G. Willow Wilson.
Mr. Owen was awarded a bronze trophy, designed by West Coast sculptor, Peter Boiger. The award ceremony took place on October 1, in Somerset, New Jersey, during the New Atlantic Independent Booksellers Association's (NAIBA) Fall Conference.

Willie Black is back in "The Philadelphia Quarry" a sequel to be released in 2013
The Philadelphia Quarry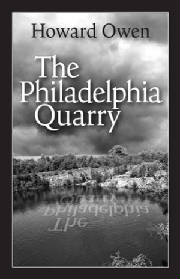 To be published July 2013
Black is back. Willie Black was last seen, in Oregon Hill, risking the final tattered remnants of his checkered career – and his life – to free a man almost everyone else believed was guilty of one of Richmond's most heinous murders.
Willie's still employed by the city's daily newspaper, still covering the night police beat with its DDGBs and dirt naps, still avoiding the hawk that periodically swoops down to pluck away a few more of his colleagues in a business that was foundering even before the Great Recession. He still drinks too much, smokes too much and disobeys too much. The only thing that keeps him employed: He's a damn fine reporter. Even his beleaguered bosses would concede that.
In The Philadelphia Quarry (which will be published in July of 2013), Willie puts himself on a collision course with a part of Richmond that a boy growing up in Oregon Hill could only experience through illicit midnight sorties at the city's most exclusive swimming hole. The Quarry was where Alicia Parker Simpson identified Richard Slade as her rapist, 28 years ago. Then, five days after DNA evidence freed Slade from the prison system in which he had spent his adult life, Alicia Simpson is shot to death at a stoplight en route to her gym.
Hardly anyone doubts that Richard Slade did it. Who could blame him? But Willie has his doubts. When the full weight of the city's old money falls on him, trying to quash the story, he only becomes more determined to get at the thing that always seems to get him in trouble – the truth. The fact that Richard Slade is his cousin, a link to his long-dead African-American father, only makes Willie more tenacious.
In the end, Willie will be drawn back to the Philadelphia Quarry, where it all started so long ago and where the truth lies, waiting to pounce.
The New York Times said Willie "speaks the local language, a crisp and colorful urban idiom we can't wait to hear again." Kirkus Reviews wrote, "Willie Black deserves a sequel." Publishers Weekly added, "Readers will hope that Willie will soon return."
By popular demand, Willie's back, and he's not backing down. 
Here's what the pre-pub reviewers are saying about The Philadelphia Quarry
Kirkus Reviews
Owen's (Oregon Hill, 2012, etc.) hard-drinking Richmond reporter Willie Black has an inside track on a blockbuster crime story that's "red meat for the on-the-airheads."
Richard Slade, a 17-year-old African-American, spent three decades incarcerated for the 1983 rape of debutante Alicia Parker Simpson, daughter of an old-money Commonwealth Club family. It was a he-said, she-said case relegated to an incompetent public defender. Slade ended up in prison.
Now Slade is proven innocent by DNA technology. Free only days, Slade is jailed again, charged with Simpson's murder. It's another quixotic case for Willie Black, the perfect flawed hero, too often with the bottle, too often defying his bosses.
Willie long ago lost a prime beat and was shuffled to night duty, but when
an innocent guy takes the fall, Willie thinks first with his wrong-side-of-town, chip-on-the-shoulder mindset. Owen's secondary characters are superb. Kate, an attorney and Willie's ex-wife No. 3, allows Willie to rent her Prestwould condo and keeps him out of court when he picks up a DUI. She's also on Slade's case, seconding spotlight-hound Marcus Green, eager to prove "the racist system can't do it."
Willie's marijuana-loving mother, Peggy, reappears, as does venerable Clara Westbrook, one of the Richmond elite and now a resident of Prestwould. Peggy offhandedly reveals that Willie and Slade are distantly related through Willie's light-skinned African-American father, and Clara gives him the down low on Alicia's society-maven sister and schizophrenic brother.
Against a backdrop of advertising-suppressed investigative print journalism, Owen uses race and class, coupled with a Faulknerian family tragedy, to provide a powerful narrative engine. While the complex noir drama keeps the pages turning, crime-fiction buffs might identify the actual rapist early in the narrative, but the murderer and motivation complete the storyline perfectly.
A quick-flowing crime drama that will have fans eager for Willie Black to right another injustice.
Booklist
Narrator Willie, who charmed readers in Oregon Hill (2012), is a hard drinking, old-style newsman who still takes notes with pen and pad and takes his chances with the powers-that-be to get at the truth. A well-plotted mystery elevated above the norm by Owen's mastery of character development and his creation of a compelling hero.
Publishers Weekly
Richmond, Va., reporter Willie Black proves himself a dogged, flawed, and tarnished knight of the Fourth Estate in Owen's strong sequel to 2012's Oregon Hill, a Hammett Prize finalist. Owen has a knack for creating quirky but credible characters, from homeless "Awesome Dude" to Simpson's aristocratic older sister, Lewis Witt.
(Howard Owen is the first interview on both the Virginia Living and Germanna Today TV shows. You may see a short commercial first.)
Howard Owen on Virginia This Morning, WTVR Richmond
Please watch this space for more book signing dates...
Hammett Prize finalist Oregon Hill...
Oregon Hill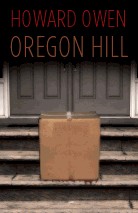 Newest Release
Willie Black has squandered a lot of things in his life - his liver, his lungs, a couple of former wives and a floundering daughter can all attest to his abuse. He's lucky to be employed, having managed to drink and smart-talk his way out of a nice, cushy job covering (and partying with) the politicians down at the capitol.
Now, he's back on the night cops beat, right where he started when he came to work for the Richmond paper almost 30 years ago. The thing Willie's always had going for him, though, all the way back to his hardscrabble days as a mixed-race kid on Oregon Hill, where white was the primary color and fighting was everyone's favorite leisure pastime, was grit. His mother, the drug-addled Peggy, gave him that if nothing else. He never backed down then, and he shows no signs of changing.
When a co-ed at the local university where Willie's daughter is a perpetual student is murdered, her headless body found along the South Anna River, the hapless alleged killer is arrested within days.
Everyone but Willie seems to think: Case Closed. But Willie, against the orders and advice of his bosses at the paper, the police and just about everyone else, doesn't think the case is solved at all. He embarks on a one-man crusade to do what he's always done: get the story.
On the way, Willie runs afoul of David Junior Shiflett, a nightmare from his youth who's now a city cop, and awakens another dark force, one everyone thought disappeared a long time ago. And a score born in the parking lot of an Oregon Hill beer joint 40 years ago will finally be settled.
The truth is out there.
Willie Black's going to dig it out or die trying.
Raves for Oregon Hill:
Wil
lie Black is all business — newspaper business. In OREGON HILL (Permanent Press, $28), Howard Owen's world-weary crime reporter covers the night beat for a hard-pressed daily in Richmond, Va. When Willie's number comes up for downsizing, he wins a reprieve by chasing the terrific story he's working on here — about a headless corpse tossed in the South Anna River. Owen has recruited his sick, sad and creatively crazy characters from a rough neighborhood cut off from the rest of the city when the expressway was built. If anyone is watching out for the forgotten citizens of Oregon Hill, it's Willie, who grew up there and speaks the local language, a crisp and colorful urban idiom we can't wait to hear again. -- The New York Times
Owen knows his setting, his dialogue is spot-on and his grasp of the down-and-dirty work of the police and news reporters lends authenticity to the narrative. This is Southern literature as expected, with a touch of noir, and with a touch of Dennis LeHane's Mystic River. Willie Black deserves a sequel. --
Kirkus
The deft and surprising plot builds to a satisfying ending. Readers will hope that Willie will soon return in a sequel. --Publishers Weekly
Owen is a careful, precise writer, creating characters so real that we have to keep reminding themselves they're fiction, and stories so haunting that they stay with the reader long after the books are back on the shelf.--Booklist
Oregon Hill is a wondrous trip into the world of sarcastic newspaper reporters, bad cops, and murder most foul. Mr. Owen writes in a captivating voice, his acute observations granting authenticity to the bullet-speed pace of the story. Newspaperman Willie Black is masterfully created, ink and dark humor coursing through his hardboiled veins. It is hoped that this is the beginning of a series of books starring Willie and crew. Bring on the sequel!--New York Journal of Books
Reminiscent of Carl Hiaasen's Basket Case, Oregon Hill is as smart as it is thrilling, a true literary page-turner.--Small Press Reviews
Littlejohn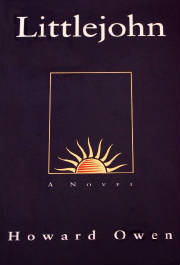 1992
Littlejohn McCain, humbled by age and haunted by tragedy, goes out on the hottest day of his 82nd year to put himself in God's hands and reflect on a life in which tragedy and redemption lie hidden beneath an exterior as quiet and humdrum as a Presbyterian hymn. Saddled with a learning disability, scarred by his role in his brother's death, deeply affected by the horrors of World War II, Littlejohn tells the reader everything, including the secret of the beautiful Sara.
"Littlejohn is a beautifully written novel, and Howard Owen has created a character as fully rounded in his quirks and imperfections, his quiet determination and bravery, as any in recent fiction." --Washington Post
"A warm and generous novel, a heartfelt celebration of the human spirit."
--The New York Times
Rock of Ages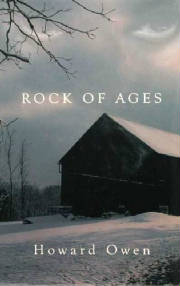 2006
Eleven years after her father's death, Georgia McCain is back in East Geddie, North Carolina, racked with Baby Boomer guilt and stumbling along between marriages. In this return to the terrain of the best-selling Littlejohn, Littlejohn McCain's daughter, here to sell the family farm, tries to come to grips with the place she couldn't wait to escape. She's brought along her drifting son, Justin, and his pregnant girlfriend. Making her life more interesting will be an overweight psychopath, taboo-flouting lust, a murder mystery and a tall, thin ghost wandering the perimeter of her once and now-again home.
"Rich in character and place, this murder mystery is also a haunting odyssey toward redemption and repatriation." --Publishers Weekly
"This sequel to Littlejohn is beautifully written and should appeal to readers of Southern fiction and to genre fans who favor character-driven crime stories." --Booklist
Fat Lightning
1994
Lot Chastain, who has dreams of eating the oily, flammable pine kindling known as fat lightning, is generally avoided by the people of Monacan. He is, in the local parlance, full of meanness. But when the image of Jesus appears in the moss-covered boards of his barn, thousands of tourists flock there. Soon, seduced by a flimflamming female gospel preacher, Lot begins to capitalize on Jesus on the Barn and heads down a dark path that will cause his smoldering core to burst into flames.
"A wise, warm, deeply satisfying story that resonates with imagery invoking the spiritual tradition of such Southern writers as Faulkner and Flannery O'Connor."
--Publishers Weekly
"Owen is a master storyteller and a writer to be watched."
--Library Journal
The Measured Man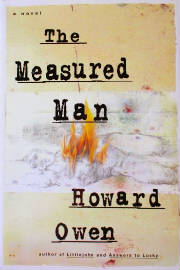 1997
Walker Fann is from the right family. He married the right girl. He lives on the right street on the right side of town. But something's gone wrong. Maybe he could have gone on forever enjoying the world that three generations of Fanns had built for him and his progeny. But the voice of Mattie Gray, the shy, pretty girl who shared his life and then left it, haunts him, pressing to win his soul. When a 13-year-old boy dredges up a ghost from Walker's past, he knows he must at last be measured. He will have to decide between the expedient thing and the right thing.
"A journey of the soul that warms and cheers." --Kirkus Reviews
"[A] nicely plotted novel inhabited by real people living in a real--and thus complex--world. Fann's struggle to come to grips with his own limitations is well and plausibly detailed."
--The New York Times
Answers to Lucky
1997
Tommy Sweatt, a North Carolina trucker driver with a fifth-grade education, has a teeth-grinding desire to amount to something. In his twin sons, he sees the vehicle for his family's deliverance, and he pushes them toward his concept of greatness. When Lucky is crippled by polio in 1954, he becomes a non-person to his father, who turns all his attention on the unscathed twin, Tom Ed. Forty years later, with Tom Ed running for governor and Lucky working as his unpaid driver, all that Tommy Sweatt sowed is about to be reaped.
"The spiritual progeny of Robert Penn Warren's Willie Stark is alive and charming the pants off everyone in the wonderful new novel "Answers to Lucky," a 1990s version of "All the King's Men."
--GQ
"A completely engaging story about the family ties that bind—tight—and the ego-pricking legacy of growing up poor."
--Kirkus Reviews
"A quietly powerful narrative, a poignant study of sibling rivalry and family dysfunction."
--Publishers Weekly
Harry and Ruth
2000
Ruth Crowder Flood has always told Harry Stein not to torture himself, not to let his life be ruined by what might have been. But he can't help it, and neither can she: They both know just how much can be lost by one bad decision. Now, late in the game, Harry is dying, and he wants to tie up a few loose ends. As the second defining hurricane of Ruth's life closes in, the time seems right.
"A winning story of human frailty and renewal."
--The New York Times
The Rail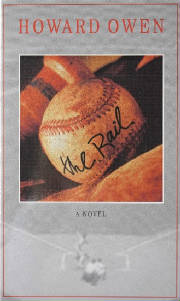 2002
Before he sabotaged his life, Neil Beauchamp was special, the glorious Virginia Rail who terrorized American League pitchers. He lived and flourished in the world of privilege, adored and accommodated. Then, it was gone. The only thing worse than spending your life earthbound, he would learn, is landing hard and knowing you'll never fly again. Now, long after the fall and just out of prison, the Rail has a chance at redemption, a chance to, for once, not fail those who love him.
"The pace is leisurely, the revelations apt and unexpected, and the coverage of professional baseball rings absolutely true."
--Publishers Weekly
"With this rich, multi-layered narrative focusing on a major league baseball star fallen from grace, Owen adds another volume to a remarkable body of work."
--Richmond Times-Dispatch
Turn Signal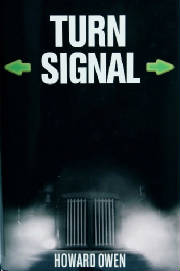 2004
No one thought Jack Stone of Speakeasy, Virginia, was the kind of man who would try to solve his problems with a .38. But here he is, on a train to New York, armed and dangerously determined that somebody is going to read his damn novel. Jack once had dreams of bigger things, but here he is, a long-distance trucker with a shaky home life and one last chance to be special. All that New York editor needs is a little persuasion.
"A poison-pen letter to the publishing industry from Owen, whose loser protagonist hits the big time once he stops playing by the rules."
--Kirkus Reviews
Richmond Noir
2010
"Richmond Noir" is a collection of all-new stories by a variety of accomplished authors. Each story is set in Richmond, Virginia. In Howard Owen's The Thirteenth Floor, a political reporter reassigned to the night police beat investigates a murder-by-gunshot in his own apartment building.
About Owen's story, "...a well-done contemporary fair play whodunit..." -- Publishers Weekly
Howard Owen Biography...
Award-winning writer Howard Owen was born in Fayetteville, North Carolina. He graduated from the University of North Carolina at Chapel Hill with a journalism degree and earned a master's degree in English from Virginia Commonwealth University.
Howard's first novel, "Littlejohn," was published by The Permanent Press in 1992. Random House bought and reissued it as a Villard hardcover in 1993 and a Vintage Contemporary paperback in 1994. It was nominated for the Abbey Award (American Booksellers) and Discovery (Barnes & Noble) award for best new fiction. It has sold, in all, more than 50,000 copies. It has been printed in Japanese, French and Korean; it has been a Doubleday Book Club selection; audio and large-print editions have been issued, and movie option rights have been sold.
Other kudos for Howard Owen and his books:
· Starred reviews from Publishers' Weekly.
· Included in "The Best Novels of the Nineties: A Reader's Guide."
· Included in the LA Times Book Reviews' "Recommended Titles" for 1997.
· Several of his novels have been Booksense selections.
· Owen won the 2002 Theresa Pollak Award for Words.
· His short story, "The Thirteenth Floor," was included in "Richmond Noir" in 2010.
Howard lives in Richmond, Virginia, with his wife Karen who is also an award-winning writer and editor.